Well, I have a little bit of free time so I figure I should post a list of my favorite Valentine's Day movies.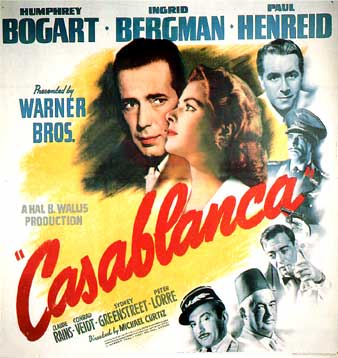 Well first off is Casablanca/Out Cold. Casablanca is a classic 1942 film about a man torn between "love and virtue." It takes place in the Moroccan City of Casablanca during WWII. IT's quite enjoyable and stars Humphrey Bogart. Out Cold is a movie that follows the same basic plot of Casablanca but is set in Alaska on a skiing mountain. It is a hilarious comedy that stars a bunch of little known actors and Zach Galifinakis before he got popular. It is a very quotable, feel-good movie. If you haven't seen either of these, you should get on it.
P.S. I Love You is next. It's probably the most traditional/cliche/cheesy rom com on this list. It's not the best movie on this list, but it has several funny moments. The premise is a guy knows he's dying and plans a way to ease his wife off of him so she can move on. She realizes through the movie that their relationship wasn't perfect, but they did have things pretty good. Anyways, she ends up moving on. (Spoiler alert) and the movie ends bittersweetly ever after. Starring Hilary Swank, Gerard Butler, Lisa Kudrow, and James Marsters.
The Beauty and the Beast-Tale as old as time. Need I say more?
Next up is Will Smith in Hitch. Hitch is an interesting movie about a guy who teaches awkward guys how to work with women and win them over. It has some nice shocking and painful truths about relationships and how men and women view relationships. It's quite an enjoyable movie. Also starring Kevin James and Eva Mendes.
War of the Roses. Ah the '80s. Ever been afraid of a rough divorce? This movie follows Michael Douglas and Kathleen Turner through their (for lack of better term) horrendously awful divorce. The premise is their divorce attorney (Danny Devito) is telling this story to a younger married couple to make sure they are absolutely ready for divorce and they can't work it out. This movie escalates in absurdity quite quickly and has so many one-liners and other great quotes while still being intelligent, and fairly clean humored. Great movie!
The penultimate movie I have this evening is The Matrix. Yeah, yeah. I've heard it all before: "That's not a valentine's movie" "How is that a love story?" Well you are wrong! This movie is centered on the love between Neo and Trinity. Neo dies in the Matrix which means he's dead in real life.Trinity tells him he can't be dead because she loves him and the Oracle told her she would love The One. She brings him back to life because she loves him! How much more romantic can you get?
And of course, what list of great movies would be complete without The Princess Bride? Crazy awesome movie! I've seen it hundreds of times and still absolutely love it. It's got true love, revenge, sword fights, miracles. One of the funniest movies I have seen to date. It's clean, clever humor and beautiful deliveries by the great actors all around drive this movie to my absolute top ten!
Anyways, happy St. Hallmark day +1 everybody. Hope you have a good hump day.