Time to catch up a bit. I got carried away with reading other comics I borrowed from my brother: Superman: New Krypton stuff and now IDWs Ninja turtles series. I also only had one or two books most weeks. Anyways, onto the books! We will start with Marvel. First up is a new series: Storm #1 written by Greg Pak with art by Victor Ibanez. It starts with Storm rescuing Santo Marco from a tsunami. With political tensions high due to their ban on mutants Ororo argues with Beast about being there. This is the basis of the story which this issue is merely made to kickstart the series and let Storm go off on her own. It's a great start having political strife as well as a personal conflict to build up the stakes and make it an intriguing series. Art-wise, this book is pretty solid. It really shines in the darker exterior scenes while the bright interiors are oddly cartoonish. Great start to the book and I hope it continues to be a good series. 3.5 out of 5.
Next up Magneto 7. Magneto infiltrates a mutant slave ring where they are forced to fight a predator x, or a mutant hunting machine. Naturally he decimates the whole operation and frees the mutant captives. It is still an excellent book. I love the anti-spy feel of the book and the way the story is progressing. Art is still very good. The use of the overly willing sidekick is pretty cool. A single hero (or antihero as the case may be) is rarely awesome on their own and typically need another person who is the brains behind the operation. Someone to gather more information whilst the title character is off fighting their enemies or taking down slave rings. Briar Raleigh is an excellent assistant and I can't wait to see what Bunn has in store for her and where she has come from. Great book still. 4 out of 5.
To polish off Marvel I have Thor & Loki: The Tenth Realm 2 and 3 where we explore the realm of Heven and at least the Angels' side of the war with Asgard. Still an incredibly intriguing story. I love the retcon happening across Marvel due to the Original Sin story. Well, I don't consider it a retcon as it gives new information more so than changing things we thought we knew. I love the dark Asgardian history though I'm not sure if I believe the queen of the angels and her version of history yet. Loki is deceptive and conniving as usual and I'm curious to see how it would play out (Which is why Loki is great, he can always go either way). Only two issues left before Thor becomes unworthy to wield Mjolnir and a female picks up the mantle (Angela?) so I am ver much looking forward to finishing the series. Great series. 4 out of 5.
On the other side we get to see Batman 66 Meets the Green Hornet 3. It continues the fun, light-heartedness of the series. It's not super great, but it's a lot of fun. I'm just very okay about the book and there's not much to discuss that hasn't been said already. I would suggest waiting for the trade as the series is very serialized, but feels like it should be read all at once. The one thing I want to say about this is that it greatly captures the feel of a TV show where each issue, while not a full story, ends on a cliffhanger. It's like you get to the commercial break in the show. Interesting way to read the comics, but it feels like the whole series would be the equivalent of at least a two episode story arc. 3 out of 5.
My other DC book is Green Arrow 34. As the conclusion of the Broken story this issue raises the bar in seriousness of tone and incredible art. Ollie gets his ass kicked by Dragon before he pierces Dragon's femoral artery and leaving him. It's an incredibly clean and solid finale to the story and sets up the direction the next story will go with Emiko agreeing to be Oliver's apprentice and Diggle agreeing to stick around. Another issue ideal for setting up where the story wants to go. Lemire is great and Sorrentino is amazing at translating his words. So, if you have any interest in picking up one of the best books at DC, grab the trades. Absolutely worth it. If you like Arrow then pick up issue 35 when show veterens Kreisberg and Sokolowski are taking over. 5 out of 5!
Now to the independent side of things. Outcast 2 comes from Robert Kirkman's side of Image: Skybound Publishing. If you want a book that'll creep you out and possibly make you lose sleep. Demon possession, rape and domestic abuse, questions of faith and possible matricide are all represented in this fantastic book. One of the creepiest things I've ever seen/read/watched/experienced. Outcast is a lot darker than anything else Kirkman has done. Although Invincible is apparently absurdly evil and vicious. Paul Azaceta's art is grim and dark, but not too vile. It helps to lighten the creepiness a bit. There's a solid cliffhanger that really seduced me. Looking forward to checking out more from this series. 5 out of 5.
Also from Image is Lazarus 10. This issue expands our knowledge of the world a bit and raises the stakes as it sets up for a world-wide gang war. This story looks far more interesting than the last one. I hope things play out epically. It's really nice to see Rucka expand the universe appropriately and having another solid looking story. Not much else to say apart from This is my favorite issue of this series in a little while and I hope it continues. 4 out of 5.
Last Image book I picked up was Velvet 6. In this book we follow Velvet as she meets a few of her assets and decides to go on the offensive to clear her name. Brubaker doesn't disappoint with his espionage, crime thriller. Steve Epting's work is incredible gorgeous and sufficiently noir, perfectly matching the tone of this book. There's some more backstory and a couple twists. Great book! I love everything about this book! 4.5 out of 5.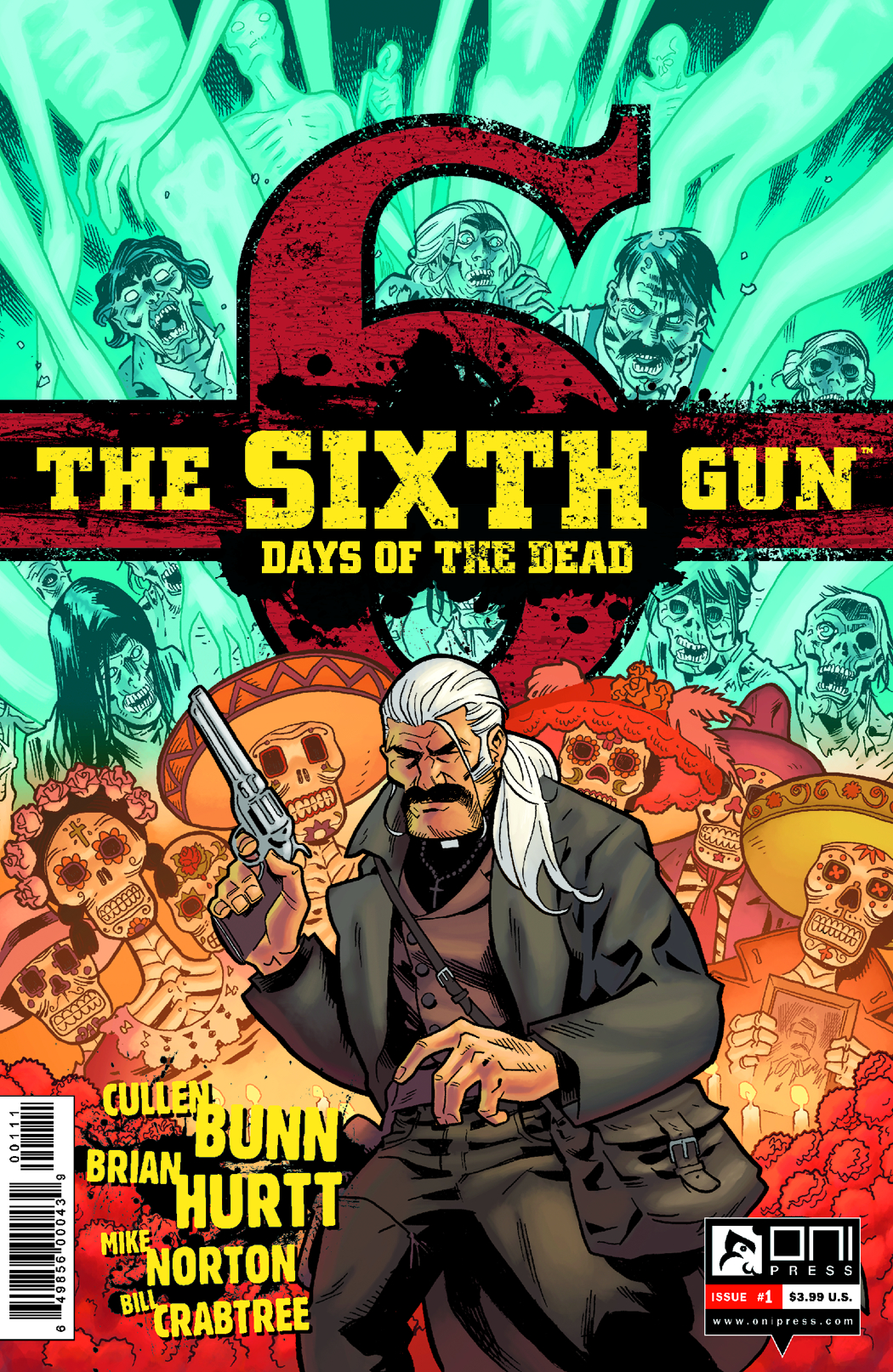 Lastly, I picked up Sixth Gun: Days of the Dead 1. A new miniseries to give a little more backstory to the world of the Six and their history. It introduces us to Yum Kimil, an apparent god or embodiment of death itself who is set to be reawakened as villains tend to be in stories. If you've read any of my blog posts, you know I love anything to do with this series. Great start to the story and we'll see how what it builds into the mythology before the last streak of issues before the end in issue 50. 5 out of 5!