Welcome back to another weekly segment of Dan's pull list. I've had a really busy week of work with many long days including working both jobs in one day so it was a well needed break to just sit back and read some comics. At least until I passed out and took a nap. Good week this week!
Helheim 4 - After hitting it's stride last month, Bunn moves us toward a war between Rikard and his undead army and the two witches. It's great stuff. As usual Joelle Jones' art is beautiful and works wonders to enhance the feel of the book. As before this issue is heading towards a fantastic battle between demons and the undead. It gets 4.5 out of 5. It doesn't do anything wrong, but I'm leaving room to grow as I believe it will.
Superman Unchained 1 - The premiere issue of the Scott Snyder written, Jim Lee drawn new series, this book plays off the hype that Snyder has received due to his Court of Owls story over in Batman. His entire run has been beautifully crafted and sufficiently dark so it's interesting to see his take on Superman. We follow Superman as he stops 7 out of 8 satellites that had been knocked out of orbit. After consulting and borderline accusing Lex Luthor of the destruction, Lois points out that all 8 satellites appeared to be saved by Superman. After investigating the sea where the last one fell and finds a hand indent where it was caught. It is revealed that some shady government group has had their own Superman for 75 years or so. While I thoroughly enjoyed reading this, I am a bit cautious as it seems to be following a similar arc as the Court of Owls. This doesn't hurt the book, but I will be cautiously optimistic from here on out. Jim Lee's artwork is stunning and really brings Superman to life. All in all it gets a 5 out of 5 from me as it's an incredible opening to a (hopefully, yet quite likely) fantastic story.
Batman 21 - Much like Justice League a few weeks ago, this one was in my box with the rest of my list. As it's Scott Snyder and it's starting a new arc (Zero Year) I figured why not? Surprisingly I was not overly impressed by this issue. We start with a tease that a yet unnamed villain has taken control of Gotham in Batman's absence. Six months prior we see the Red Hood and his gang causing trouble. Bruce meets with his uncle who tells him to come back to Wayne Enterprises, which he of course refuses and then it's revealed his uncle is working with Edward Nigma. This issue didn't stand out to me because there's a lot happening yet nothing leading towards an obviously good story. I may stick around for a few issues to see what happens. 2.5 out of 5.
Mega Man 26 - Part 7 of 12 in the Worlds Collide story. This story continues to be exactly what I want out of it. It's super fun. Has great interactions between the characters. Basic, yet interesting, story. It's just a solid story with great action. 4 out of 5.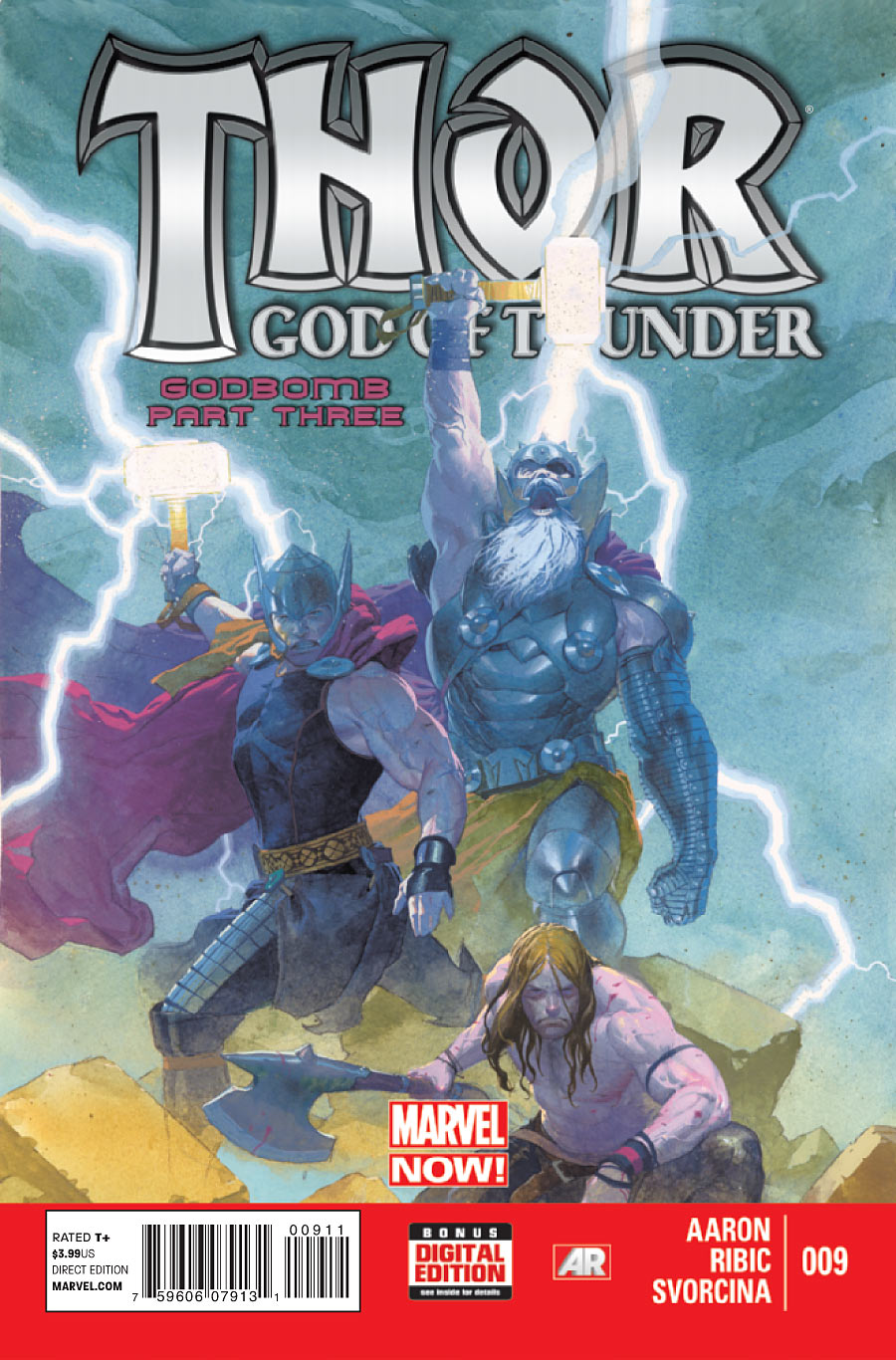 Thor: God of Thunder 9 - In part 3 of the God Bomb story we follow the trio of Thors as they head out to attack Gorr the Godslayer. This issue has the feel of an alternative metal concept album. This entire series has been pretty metal. They attack Gorr and have an epic stellar battle. At the end they hit Gorr into a sun and the final page is Gorr standing on his planet over the bodies of Thor. Epic is the only word with enough scope to explain this story. While it is cheesy at moments (young Thor riding a space shark), they are easily overlooked by having three iterations of Thor who all have their own personalities as well as a villain whom we can actually care about. The art is a beautiful, muted style. The lack of realistic images portrays the dark tone of the story alongside the metallic coloration really add to the viking raid feel. Another great issue. Only real worry is that this arc doesn't wrap up before Gorr gets stale. Easily one of the top books I'm reading. 4.5 out of 5.